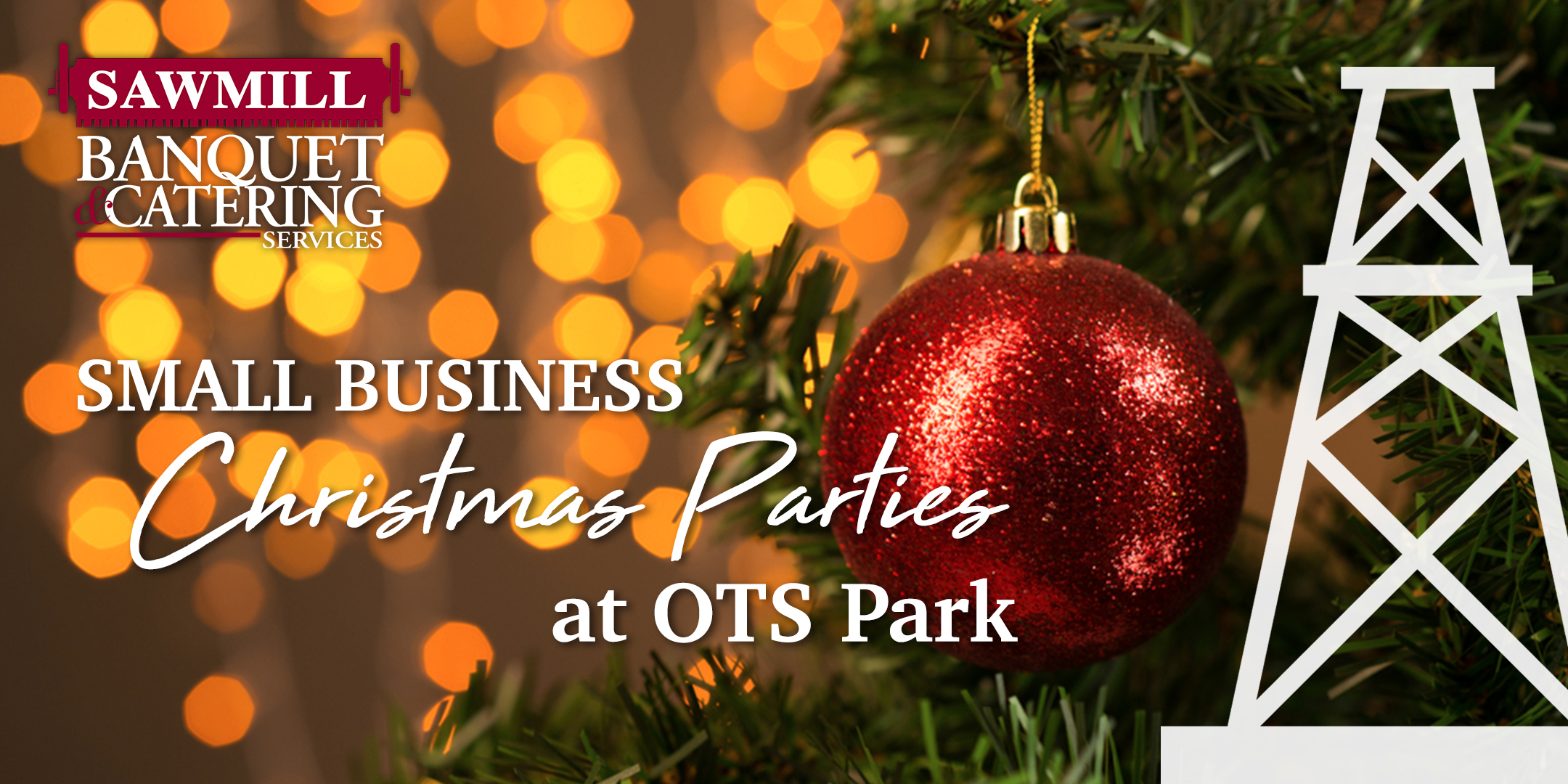 Purchase Your Tickets – Available Dates
This year's event-of-the-season will take place at the OTS Centennial Park (2104 156 St SW). This spacious and historic venue is perfect for your holiday jubilations!
For the best access to the venue, use Anthony Henday to the Rabbit Hill Road Overpass
Proceed South on Rabbit Hill Road / Turn left onto Glenridding Ravine Road
Turn left onto 16th Avenue / Then right onto 156th Street and follow the road to the OTS parking lot

Featured Dance Bands
Small Business Parties Extravaganza Menu
(Self-Serve Coffee) (Tea / Hot Chocolate Stations available all evening) (Our Late Lunch will be presented at approximately 11 :00 PM)
Specialty Baked Artisan Buns with Buns Creamery Butter
Deluxe Chilled Seafood Presentation
Peel N' Eat Shrimp, Atlantic Mussels, Lox, Candied Salmon, Smoked Sockeye
Imported & Domestic Cheeses with Gourmet Rice Crackers (& Variety of Traditional Crackers Not )
Hand-Cut Baby Red Chipotle Potato Salad
Marinated Vegetable Salad with Creamy Italian Dressing
Santorini Rice-Penne Pasta Salad with Kalamata Olives, Cucumber, Bell Peppers, Onions and Locally Sourced Feta Cheese Oregano Dressing
Chickpea & Quinoa Salad with Orange Soya and Sesame Marinade
Sawmill Classic Caesar Salad with Herbed Croutons and Parmesan Cheese
Hand Carved "AAA" Certified Angus Alberta Prime Rib with Merlot Jus and Mini Yorkshire Pudding
Roast Young Turkey
(with Traditional Sage Stuffing and Giblet Gravy on the Side – Not )
Roasted Alberta Pork Tenderloin with Blackberry Mustard Sauce
Cheese-Stuffed Ravioli with Roasted Red Peppers and Fresh Asparagus
Paleo Pecan-Maple Salmon Seasoned with Chipotle Pepper and Oven-Roasted with Apple Cider
Whipped Yukon Gold Potatoes
Oven Roasted Parisienne Potatoes
Medley of Harvest Vegetables with Fresh Garden Herbs
Sawmill Callebaut Chocolate Fountain with Fresh Fruit Selections
An Incredible Variety of Specialty & Seasonal Sweets/ Delicious Hot Dessert Features
Edmonton's MOST SPECTACULAR Gluten-Free Dessert Selection & Display!
---
Looking for Steakhouse Christmas Party venue?
Interested in a more private dining experience? Consider one of our many Sawmill Restaurant locations.